You may not be responsible for world peace,

but you are responsible for your piece/peace.
(Your piece of world peace and your own inner peace). ~ Brian Farr, Past-Chair, NAIN

NAIN has undertaken a new initiative to help address increasing polarization and asks:
How can each of us make sure our own individual piece is the best possible fit - and the most powerful?
Click a link below to see an idea of what your piece for world peace can be


This beautiful poster listing many different faith traditions view on Peace is available from this year's NAINConnect host, Edmonton Interfaith Centre.

​Click here to order yours today!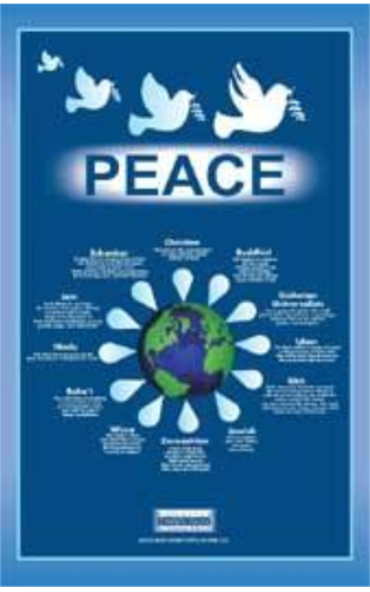 Our very own Len Gierach offers this breakdown of P.E.A.C.E.
for ​building your own puzzle:
P - Prayer and Contemplation
E - Empathy and Respectful Dialogue
A - Attitude of Hope and Inspiration
C - Conscious Communication
E - Enthusiasm for Life
FaithBridge, an Interfaith consortium in northwestern Chicagoland,
brought together five children's ensembles from Muslim, Hindu, Jewish, and Christian traditions to share the sounds of their faiths in a day long musical event with local composer Lee Kesselman. Each choir shared music from its own tradition and then collectively sang Kesselman's
"Peace in the Desert" in Hebrew, Arabic, Latin and English, and also "Now I Walk in Beauty" by Greg Smith. ​
Baines, Wesley. "The Road to Civility", beliefnet.com.
Bardack, Paul Roitman. "Drash Judaism and Civility, The Other Side of Halaka", Tifereth Israel Congregation, August 2002.
Bird, Richard. The Collapse of Civility – Moving the world towards civility – one person at a time (An online blog with posts on civility and incivility in technology, social media and personal relationships, 2009 -2014).
Bybee, Keith. How Civility Works. Redwood City, CA: Stanford University Press, 2016.
Carter, Stephen L. Civility: The Manners, Morals and Etiquette of Democracy. New York: Harper Perennial, 1999.
Dahnke , Cassandra, Tomas Spath and Donna Bowling. Reclaiming Civility in the Public Square: 10 Rules That Work. Livermore, CA: WingSpan Press, 2007.
"George Washington's Rules of Civility and Decent Behavior in Company and Conversation," Foundation Magazine (online).
Lederach, John Paul. The Moral Imagination: The Art and Soul of Building Peace. Oxford: Oxford University Press, 2006.
Mandaville, Peter. Religion and Political Civility, The Long Conversation: Washington, DC: The Saban Center for Middle Eastern Policy at The Brookings Institution, November 2012.
Mailhot, Terese Marie. "Marginalized People Don't Need Lessons in Civility", Pacific Standard, July 25, 2018.
Marino, Jim (Doctor Cleveland). "Martin Luther King, Jr.'s Civility". Dag/Blog, January 17, 2011.
The Mormon Ethic of Civility. Newsroom (The Church of Jesus Christ of Latter-Day Saints, October 18, 2009.
Park, Richard S., Constructing Civility: The Human Good in Christian and Islamic Political Theologies. Notre Dame: University of Notre Dame Press, 2017.
Palmer, Parker. Healing the Heart of Democracy: The Courage to Create a Politics Worthy of the Human Spirit. Jossey-Bass, 2014.
Ryerson, James. "How to Be Civil in an Uncivil World", New York Times, January 11, 2017.
Sack, Jonathan. The Dignity of Difference: How to Avoid the Clash of Civilizations. London: Continuum Publishing, 2003.
Segar, Steve. "Jewish Values and The Politics of Civility". Kol Halev: Cleveland's Reconstructionist Community (kolhalev.net). September 17, 2012.
Shah, Zulfiqar Ali. Seasons of Civility: An Islamic Perspective on Parker Palmer's Five Habits of the Heart. May 21, 2012.
Stockland, Peter. "How Faith Fosters Civility", Convivium, May 10, 2017.
Sugrue, Thomas J. "White America's Age-Old, Misguided Obsession With Civility". New York Times, June 29, 2018.
Thurman, Howard, The Search for Common Ground. Friendship Press, 1986.
Zubik, David A. Nine rules for civility from the Catholic tradition. June 26, 2018.